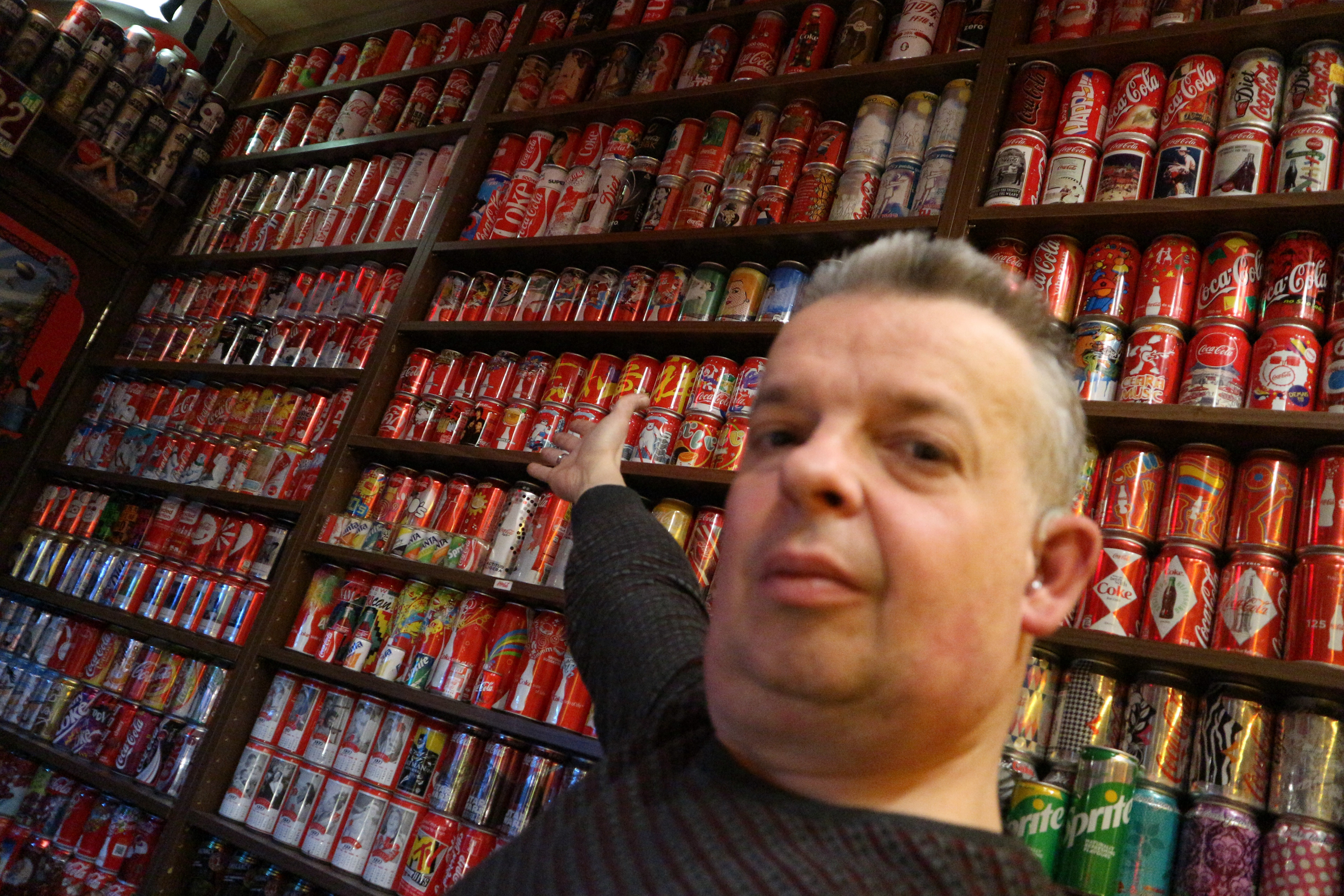 I am Guy Mortier from Belgium and live in Aalst, a city between the big cities of Ghent and Brussels in Belgian Flanders and the latter is the heart of Europe. The Aalst is famous in Belgium for its Oilsjt Carnival.
I am 54 years old and I am operator in Bakery food factory. number one in Belgium. I also do grapical design, web-scripting for my career-job. I am married with two daughters Emily and Eline. I like to spend my free time on my Coca-Cola can collection and my computer (I make sites, advertisements, brochures, photography).
I started my collection in 1984. It started in 1980 when I collected all the different soda cans and beer cans (I found a lot of empty cans from the Oktoberfest in Wieze and some places with a lot of people from all countries). But in 1984 I started collecting Coca-Cola from all over the world (cans, bottles, gadgets, glasses and other things).In 1990 one had more than 1000 cans. Later I met other collectors so we could exchange our double cans. In 1994 I had contacts with 17 different collectors. After my marriage and moving house I stopped collecting gadgets and items (bottles and glasses). It became too much . So I decided to only collect cans (*) . I have over 2700 different cans and I made new collectors friends on the Internet . Now I have all the collectors and friends on the Internet with whom I have contact and trade. Now at the beginning of this millennium I have more than 5000 visitors on my site and I also have more than 3.500 different cokecans from 78 countries all over the world in my collection . 
1998 
20 years later... the new site "www.canscollection.be" bores me since the end of 2004 and I have more than 6400 different Coca-Cola cans. and more than 40.000 visitors and 150 traders I contacted for trade or deal ! I thank all my trade friends for helping me find cans for my collection and the latest cans ! I always send gifts for my trade friends. This way I have made more friends all over the world !
2015 new social page "Canscollection Belgium" group name and has more than 750 members so far
In 2018 my site exists 20 years In between I have more than 14500 different cans . Now I start to limit a bit due to lack of space and time. I try to exchange with several cans from my collection for 1 old or rare can that I don't have yet.
I still collect but not everything correctly special edition cans and limited editions and also large collection of Coca-Cola coasters , Coca-Cola labels and metal caps ... who will be next in the future ?